Looking for a roomier family-friendly hotel in the heart of Calgary for Events, Stampede, a business retreat. Check out the World's Largest Marriott, Residence Inn Downtown/Beltline in Calgary.
I was able to view this Residence Inn Downtown/Beltline by Marriott, during the grand opening of the summer of 2019, this is a hidden treasure in the downtown Calgary Core. The hotel is located in the Downtown/Beltline District located at 610 10 Ave SW, Calgary, AB T2R 1M3 (587) 885-2288.
Designed by Frank Architecture.ca Textured walls, with metal staircases, and huge windows that one can see the Calgary Tower, and also the mountains from the 33rd floor.
As a family with four children, we have stayed in a lot of residence inn's throughout the United States; as it provides a kitchen and enough space to sleep without having to book two rooms.
The Scoop on the Residence Inn Downtown/Beltline Rooms
There are 390 rooms on a total of 33 floors. It feels like you are in your own condo with how spacious it is. Each room is stocked with a variety of appliances such as an full-size fridge with a freezer. When your budget conscience of how many ice cream treats a family can have on an outing, it pays to stock up in the full-size fridge freezer. Stovetop, having a microwave to make a bag of popcorn, a dishwasher, and plenty of supplies are well stocked. 55″ inch LED televisions, with complimentary wireless internet makes you feel that you haven't left any luxury behind. The King Size suite, one could definitely put up their feet and make it home, especially if traveling for long business trips.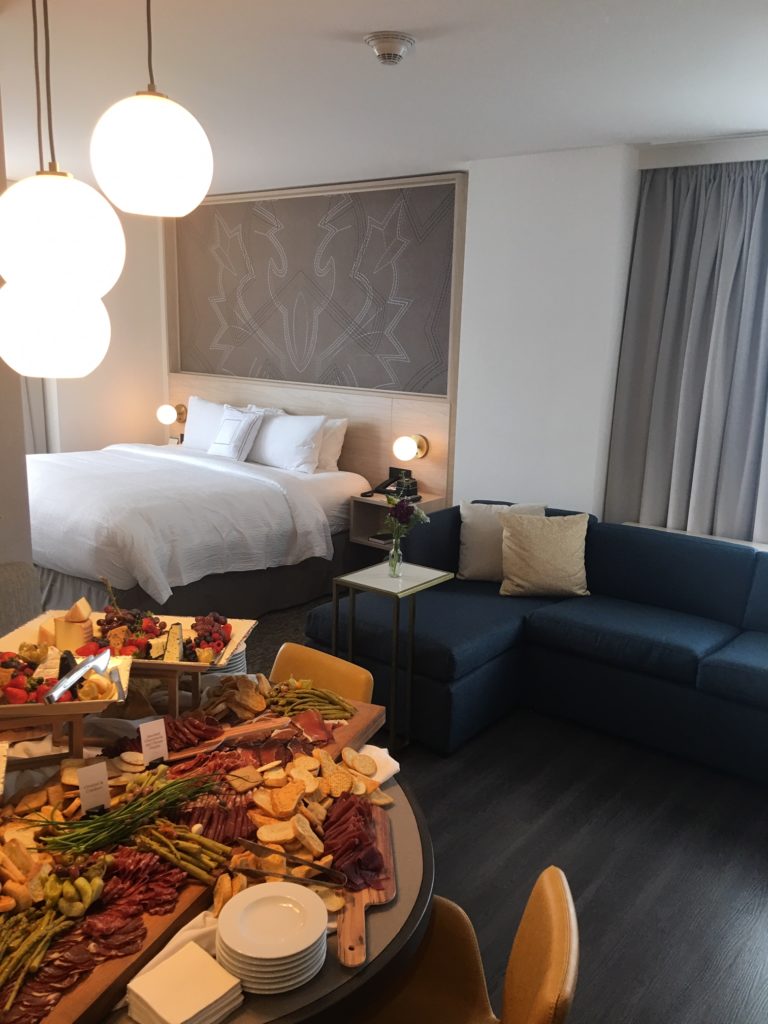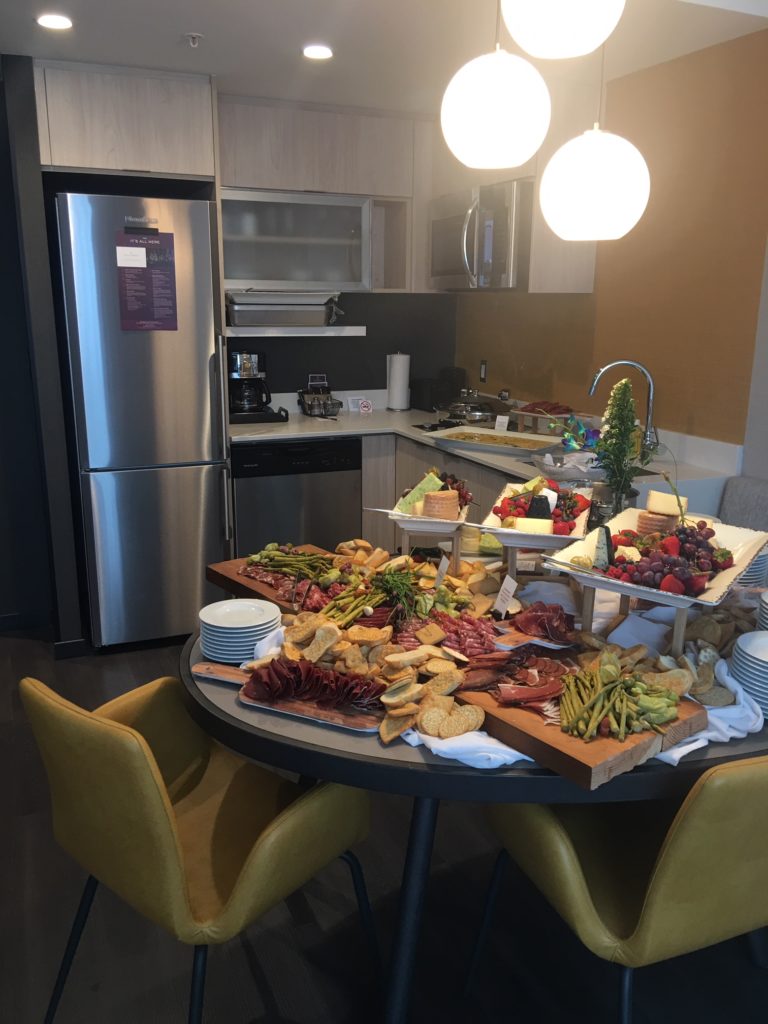 The links in this post are affiliate links. This means, that if you click on the link and purchase the item, I will receive an affiliate commission at no extra cost to you. All opinions remain my own.
The Family suite, has 2 queen beds, with a pull-out couch. It feels roomier for the family to hang out, and gather around for a meal.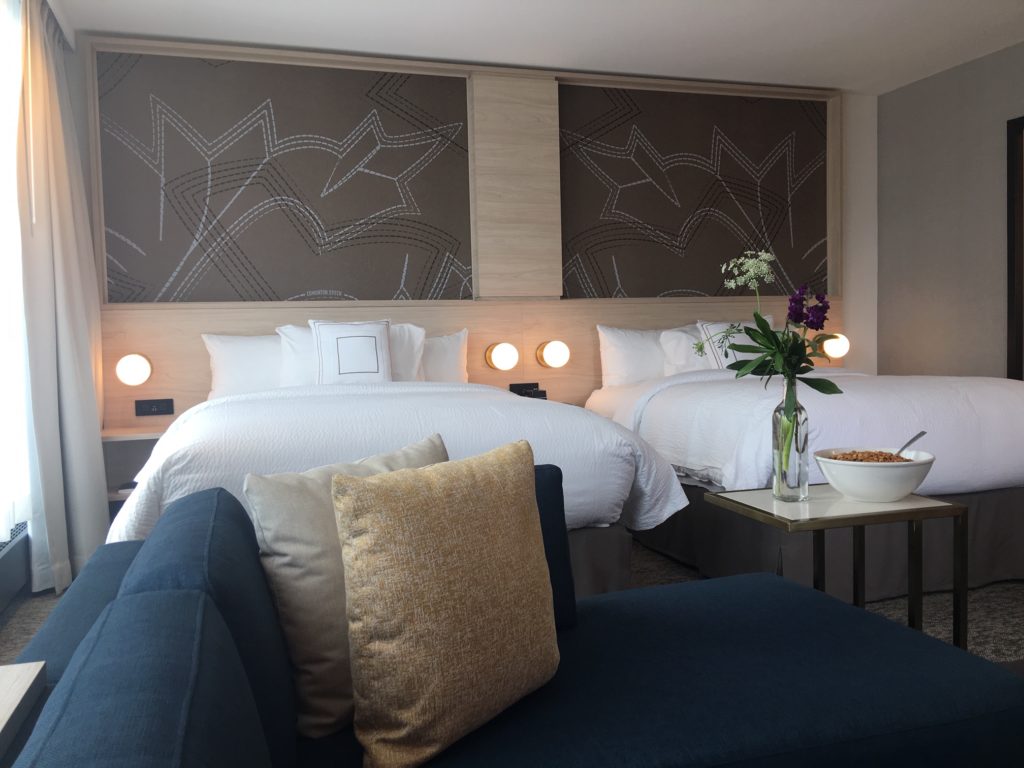 Free Hot Breakfast
The eating area is spacious, and it has waffle makers, plus offers a large variety of selections. If you have waffle makers, you know you have landed on a great breakfast area! There is a large dining area, for happy hour and where one could catch a meal, even if they weren't staying in the hotel, with a bar service nearby. The outside courtyard has lots of space to visit with bbq and fireplaces.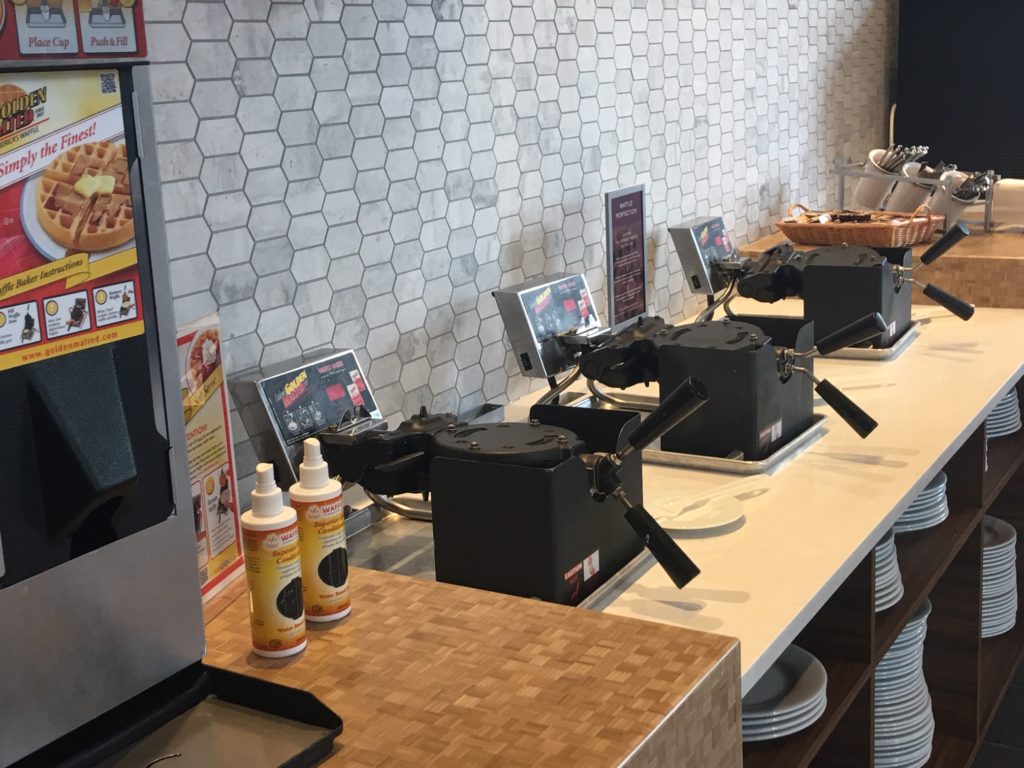 Calgary Residence Inn Downtown/Belt-line Amenities
1. The outdoor area of Calgary Residence Inn Downtown
Relax on patio couches, enjoy a fire pit, or a bbq, and view the fireworks during Stampede, the skyline, and create your own party!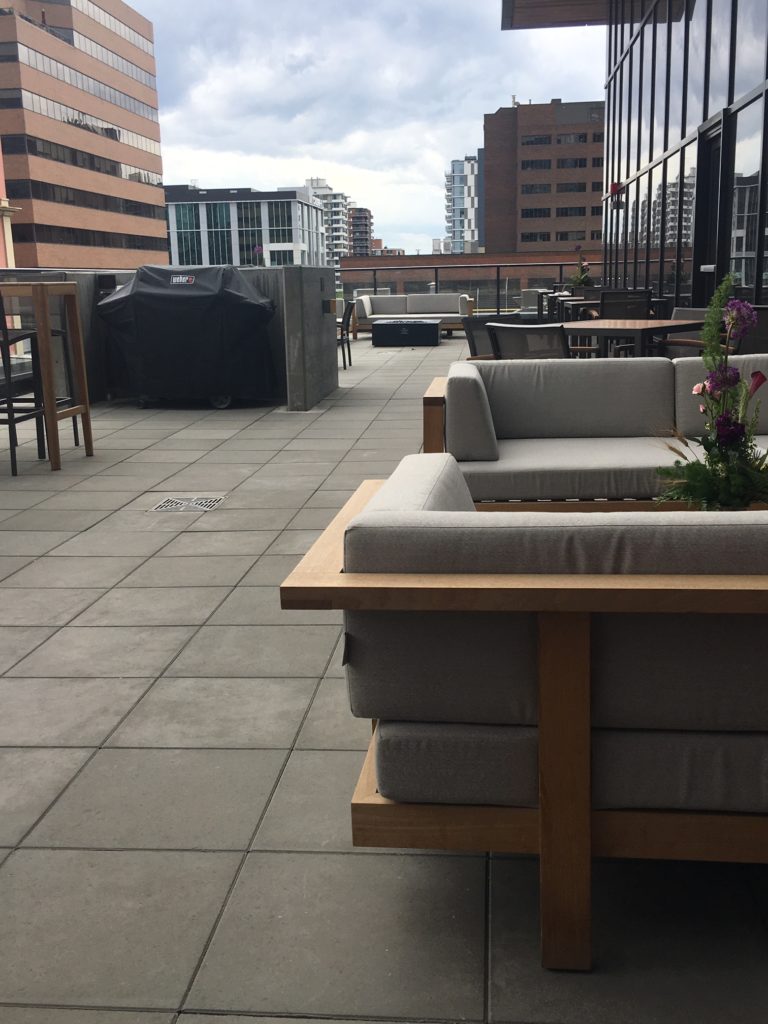 2. 24-Hour Fitness Centre
To work off those waffles, just off of the lobby on the main floor, there is a fitness area with a loft. You will find treadmills, exercise balls, flex machines, and elliptical machines, with a view of the Calgary Tower.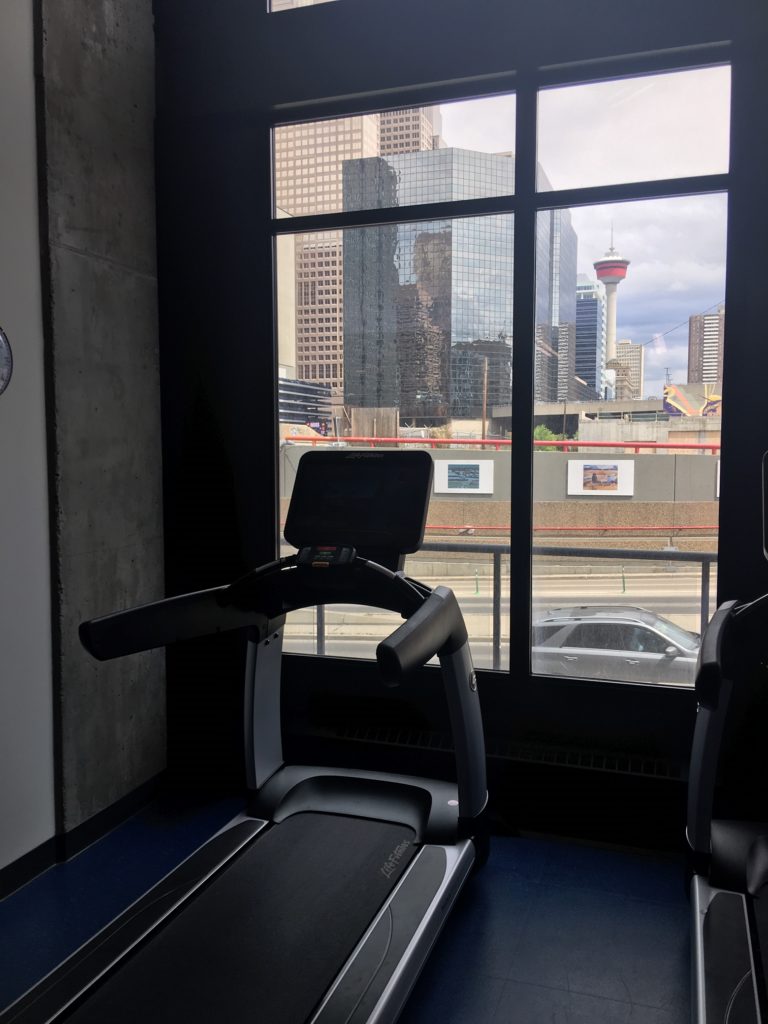 3. Underground Parking
Downtown Parking in Calgary is expensive, I have found it cheaper in New York City! There is a hotel parking fee of around $30 per night, with the perks of being underground. There are other locations nearby that might be a cheaper option. If you are traveling in the month of July, during Stampede, you will find it harder to find parking close by.
4. Pet Friendly
Check with the Hotel Pet Policy, usually no more than 2 pets per room.
Take this into Consideration
If you are looking for a hot tub, pool, or bathtub to wash up the children, this hotel does not deliver. Showers only in the rooms. There are plenty of fun wave pools with slides, and kiddie pools, in the City of Calgary to seek out and make memories.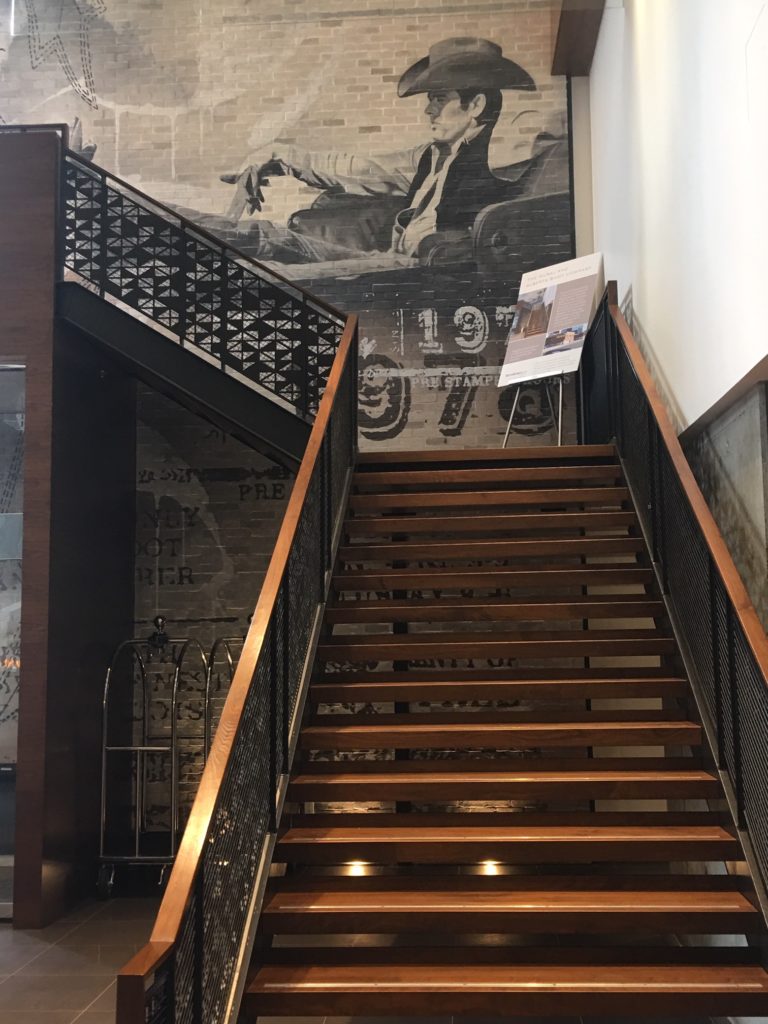 This is a beautiful hotel, that honors the founder of the Calgary Stampede Guy Weadick throughout the murals, photographs, and even the western boot stitching on the headboards of the beds. You will definitely feel that you have stepped into a modern western heritage hotel! Yahoo, hope you can visit soon!