Create your own monster with these cute and fun Monster Candy Kabobs. Skewer your choice of gummy candies and decorate your own marshmallow pieces for the ultimate spooky treat.
This is a fun family editable activity that your children would enjoy, but it does need some adult supervision, with working with hot items and pointy skewers.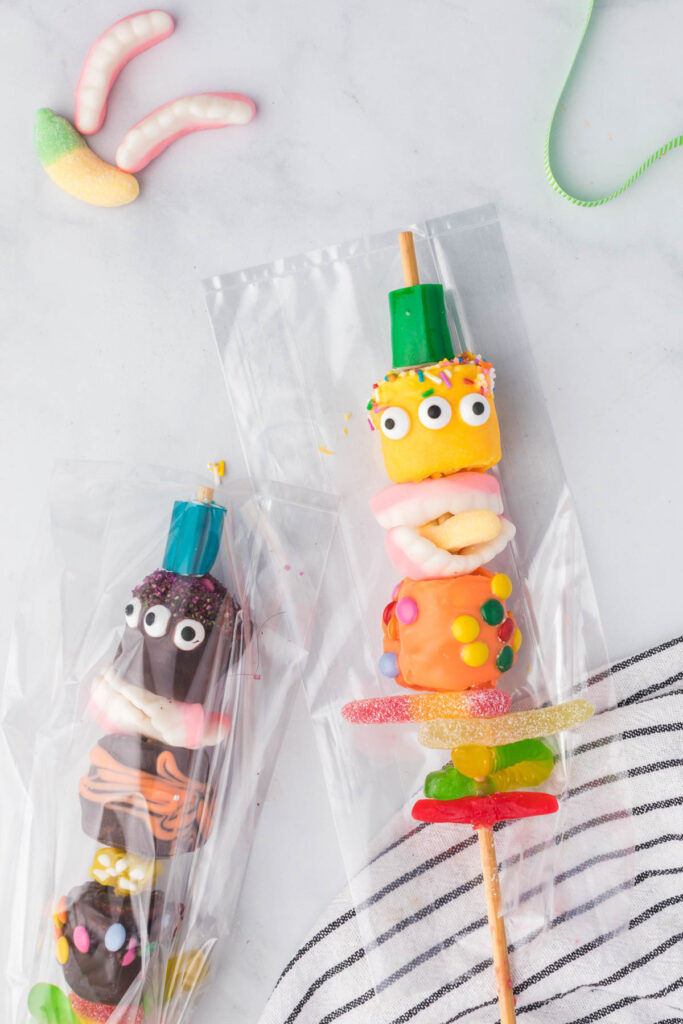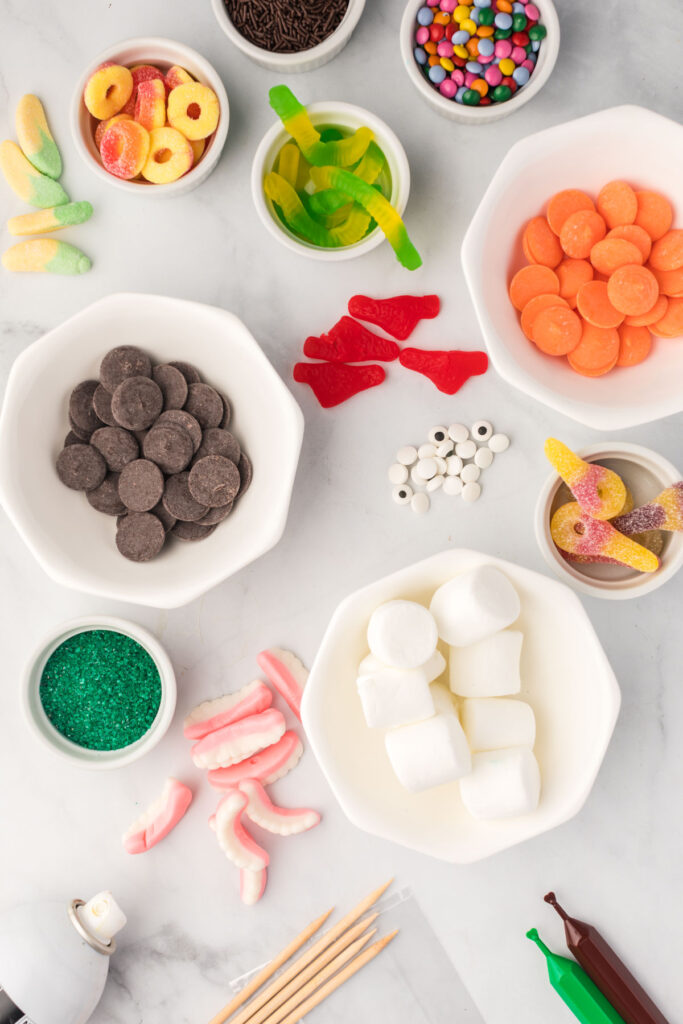 Ingredients For Monster Candy Kabobs
Wood Skewers
Non-Stick Cooking Spray
" target="_blank" rel="noreferrer noopener">sour soothers, bigfoot,

How To Make Halloween Candy Kabobs

Before you start it's always a great reminder, to remind the children, that clean hands are a must.

Then get out supplies. Line a pan with Wilton Candy Melts that you want to use, place into a microwavable bowl and heat on high for 2-3 mins. Stir, until it melts and is smooth. If you don't have a microwave, you could use two pots, stacked, as a double boiler. You add water into the pot below, with the candy melts on top, and let the water come to a boil, so it melts what is stacked on the top pot. If you have a small crockpot and that too would be easy to melt the candy melts in.

The Wilton candy melts, melt very easily, and when it hardens, it can be reheated and melted again. You could use a chocolate bar, but I wouldn't use any higher quality chocolate that needs to be tempered as that seems like too much work.

Put a marshmallow on the stick, and push the skewer right through to the end of the marshmallow, as it will be easier to put on the skewer later, when the candy melt dries and you assemble your monster. Dip the candy melts around the marshmallows, top and bottom making sure you cover all the edges.

While the candy melt is stirred hot, dip into sprinkles, to make it look like hair or into sugar sprinkles.

Carefully pick up 1, 2, 3 or more eyes to build your monsters face. It is easier for the eyes to flip over, so place them gently in position. You can also add smaller candies, I used mini chocolate baking chips, that look like m&m's as monster ears.

I place a variety of heads on the tray covered with parchment paper. The white strips across a few of the eyes, are "mummies", some of their faces reminded me of certain characters!

Then I repeating the same process of sticking a marshmallow in the melted candy melts. I created the body. Some I rolled entirely in sugar, small baking chips, sugar sprinkles. I used the chocolate melted pens, by Kadoom to experiment with creating a stitch smile on a cyclops.

Wait at least 15 mins after dipping for the marshmallow to be completely cooled, before assembling.

Take the wood skewer, and spray it with a non stick baking spray. Lets build your monster!!

The pointy part of the skewer, will always be at the bottom. Push a candy from the bottom, up to the top of the skewer. Then place a head, add in some gummy teeth, maybe another candy as its tongue. Add a marshmallow body and then add in some more candies. Sour soother rings can make great arms, and Big Allen's Red Big Foot, can end the monster. Or create a whole bunch of heads, its all up to you!

Clear cellophane bags, can be found in the baking aisle of a craft store. Leave enough room, where the bags be taped shut, and tied with a ribbon to prevent dying out, especially if you are making for a special friend.

Add these Monster Candy Kabobs to a Boo Basket and deliver it to your friends! You could add:

Enjoy!