A small chocolate chewy gooey pretzel treat that is full of textures and with a pop of cinnamon to the tastebuds, it may also just become a favorite amongst your friends, too….better double the batch! Add this recipe to your collection for Valentine's Day parties, gift bags, and of course, your candy dish.
In Canada, we have a chocolate candy bar by Nestle called a Big TurkTM, inside is what is considered a Turkish delight, which is a red jellied chewy that is very similar to a cinnamon bear. In Utah, you can a big bag of chocolate-covered cinnamon bears, as they seem to be a treat that was invented down there. Mix chocolate and cinnamon gummy bears together will dazzle your senses.
Looking for a new hot cinnamon Valentine's treat, that doesn't involve cinnamon candy hearts? This Valentine Treat has the crunch of the pretzel, the ooey gooeyness of the caramel inside the sweetness of the milk chocolate; its salty, sweet, and spicy with the cinnamon bear, with a tiny bite of a chew. Many senses to explore in just one or two bites!
Its a simple treat that is easy to make, and package up to give a gift to co-workers, teachers, friends, and share amongst family.
Ingredients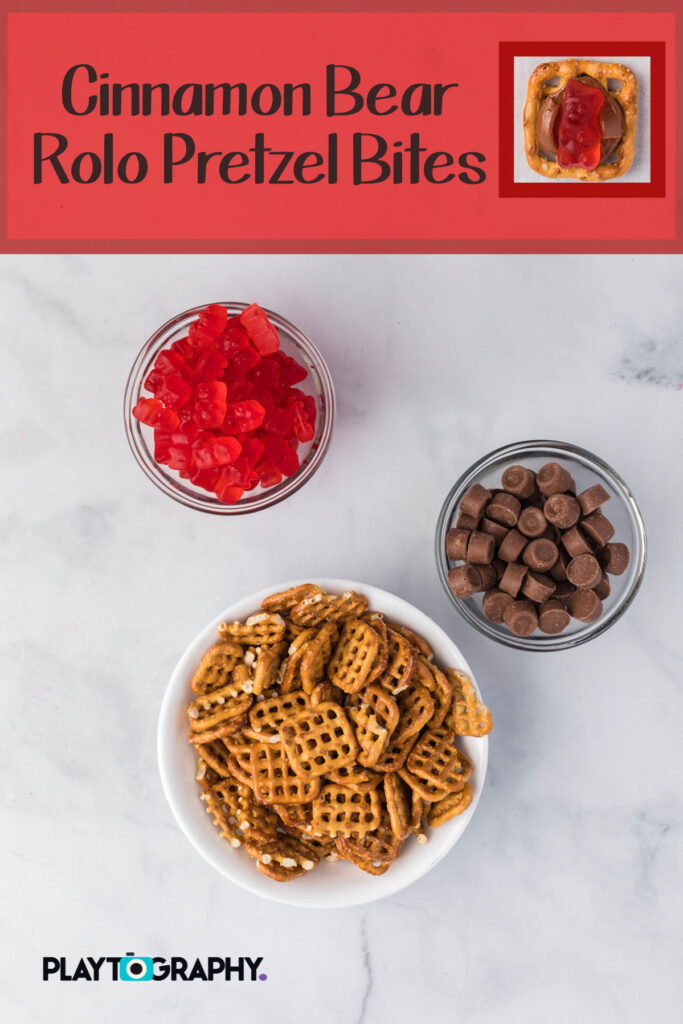 2 cups of waffle pretzels
2 cups of cinnamon gummy bears
In Canada, I have found the waffle pretzels at Bulk Barn, the gummy bears at Save on Foods, and the Rolo Mini's the best price is on Amazon, now that other stores have raised their prices.
Step 1
Preheat Oven to 275 degrees.
Step 2
Lined a cookie sheet with parchment paper. Parchment paper is a stable in my home, the non stick, easy clean up is a must!!
Then line a cookie sheet with waffle pretzels.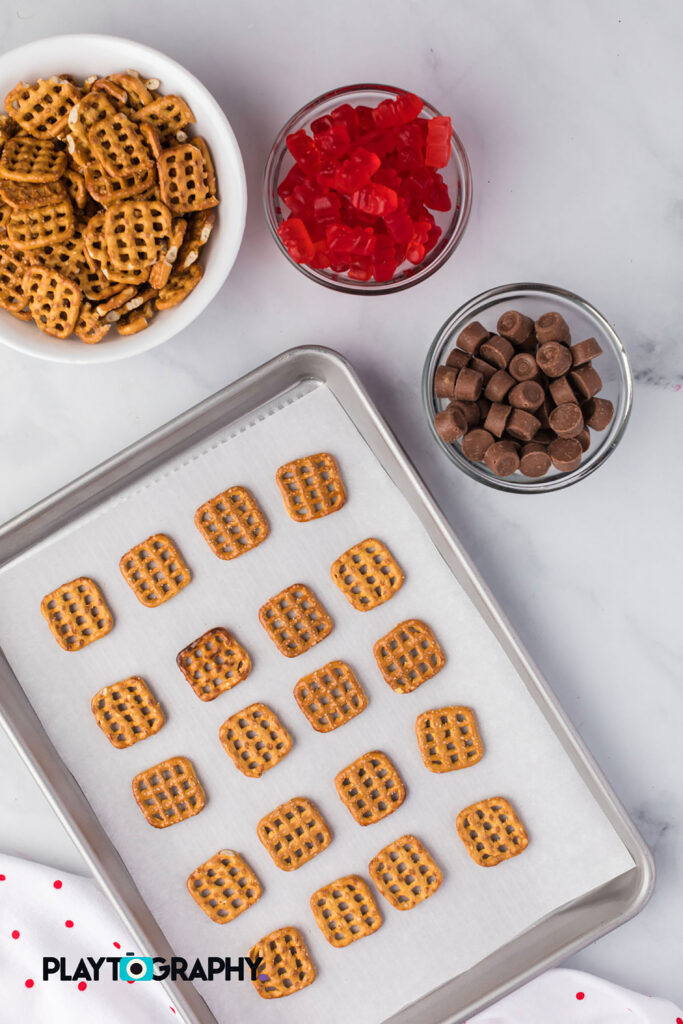 If there are broken pretzels, it still works, they actually look like heart shapes, just turn them on their side!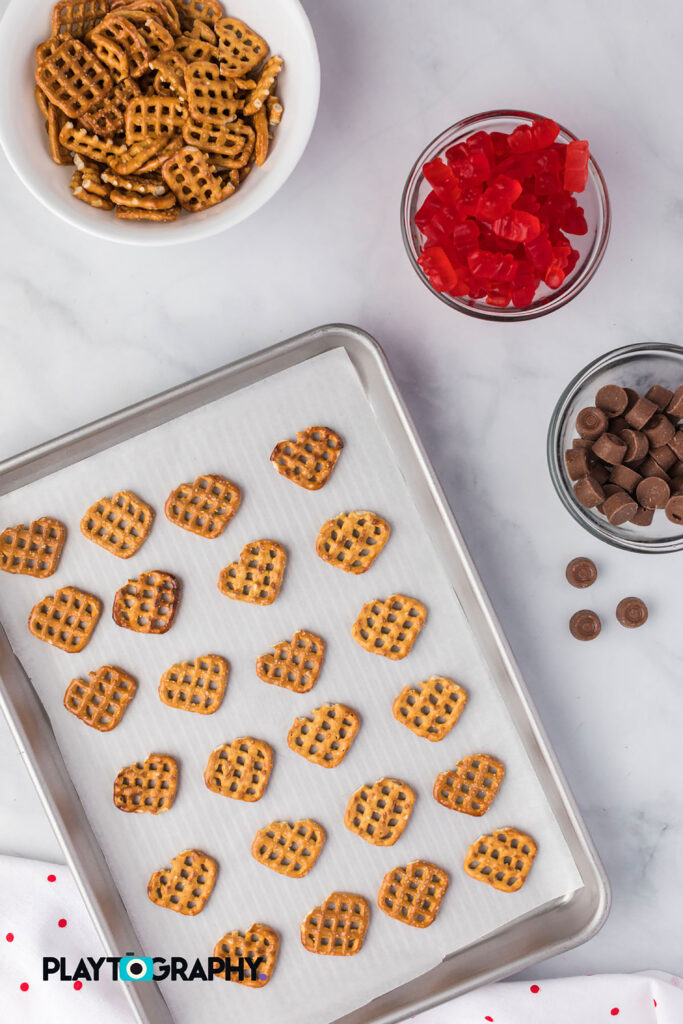 Throw out the perfectionism, and see the beauty of how they already look like hearts!
Step 3
Place one Rolo Mini in the centre of each pretzel. Just ONE! You will be tempted to think, like me…I can do more that one….don't, it isn't pretty, and besides then there will be more for you to eat!
Then place into the oven for no more than 1 minute, as you just want the chocolate with the caramel to slightly soften.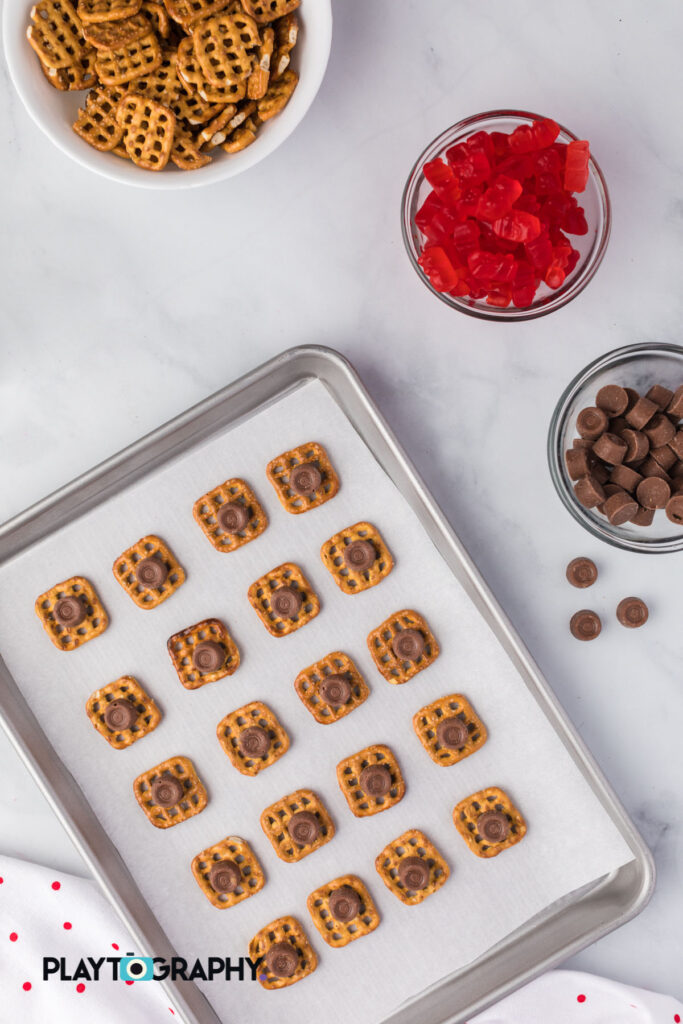 Step 4
Once out of the oven, take 1 cinnamon gummy bear and place directly in the middle of the rolo, push down.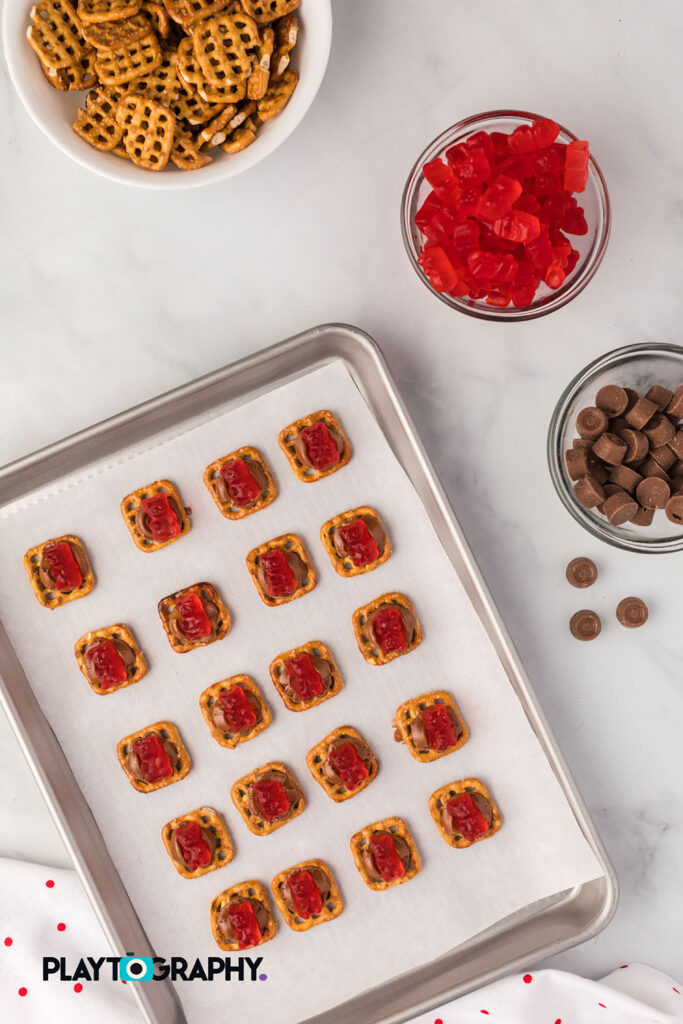 When finish cooling, store them in a sealed container if not eating right away, as this will prevent the chocolate from getting dried out. Can easily last for up to 3 weeks, but once placed in a candy dish, don't expect them to last too long!
Love Cinnamon and Chocolate? Here is another quick treat to add in with your Valentine's treats, a Valentine's Duel Sizzle Heart Almond Bark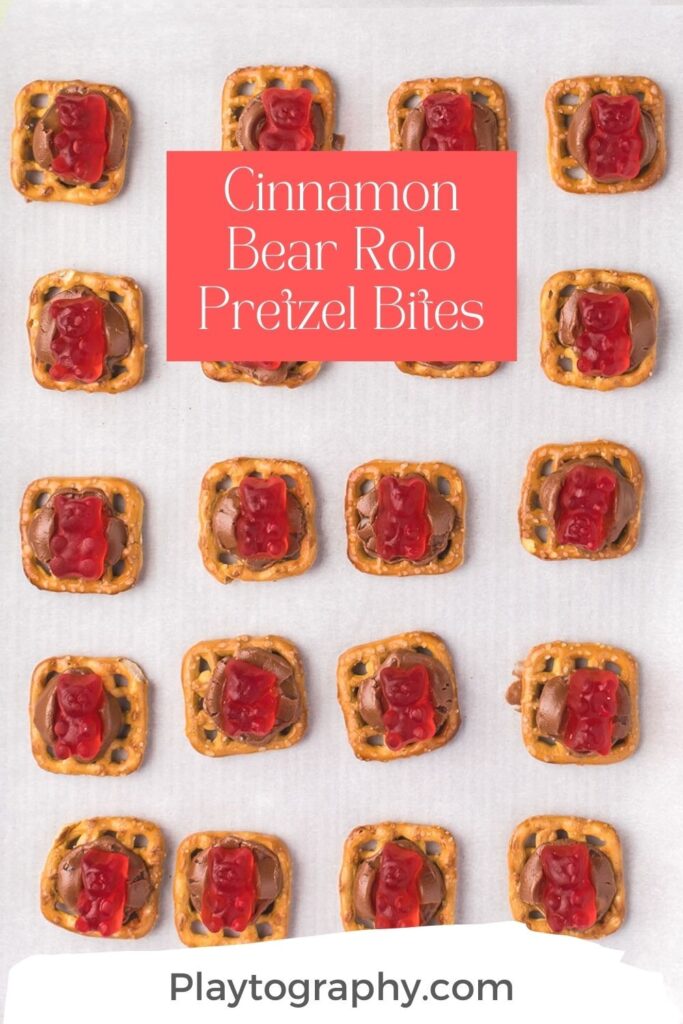 If you like this, please pin it to your favorite Pinterest board!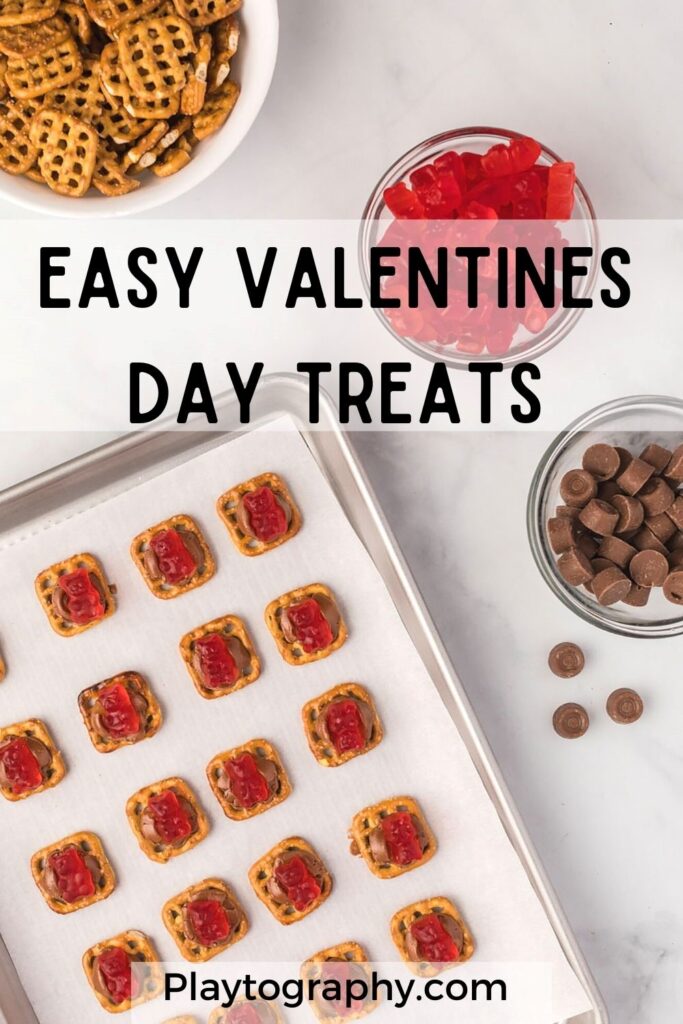 Save this for a future Valentine's Day Treat!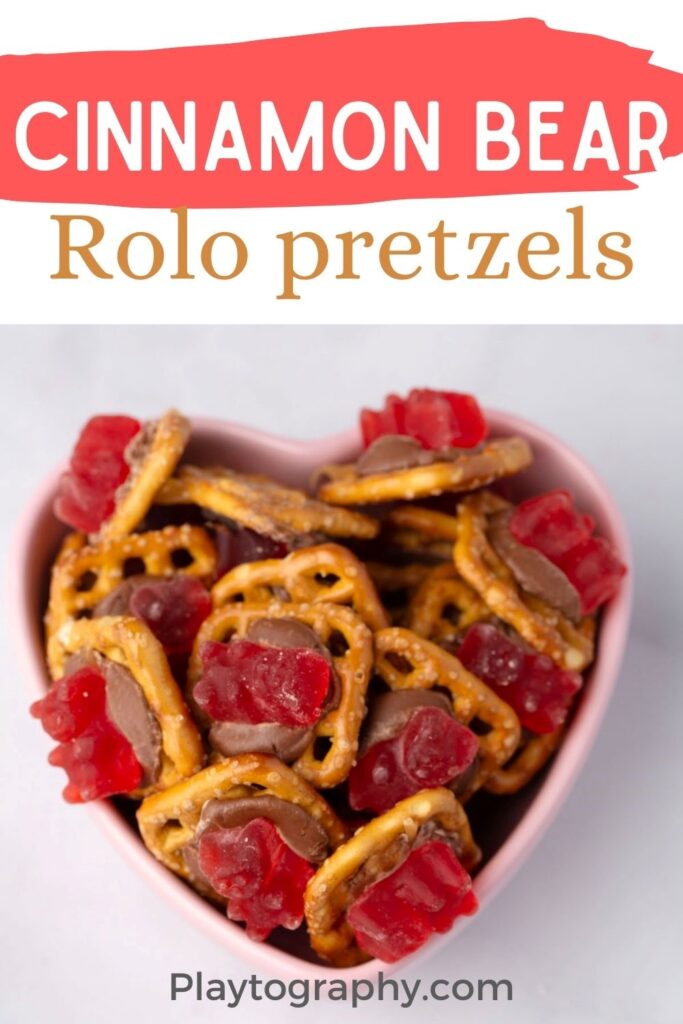 Cinnamon Bear Rolo Pretzel Bites
Cinnamon gummies mixed with Rolo chocolate make for a quick and fast treat!
Ingredients
2

Cups

Square Pretzels

2

Cup

Cinnamon Gummie Bears

1

203g

Rolo mini chocolate/candy bars
Instructions
Line cookie sheet with parchment paper.

Layout waffle pretzels on sheet.

Place one Rolo miniTM in the centre of each preztel on the sheet.

Place cookie sheet into oven for up to 1 min.

Remove cookie sheet, immediately place a cinnamon bear into the Rolo miniTM and press down.

Cool. Store in a sealed container will keep for 3 weeks. For optimal freshness eat right away.