A Valentine's bark of almonds and candy, with two types of chocolate, dazzles the taste buds with a hint of cinnamon and delights the eyes. An easy recipe that can be created together as a family, or dropped off to friends.
White chocolate, Dark Chocolate, and Milk Chocolate can be dueled of which one wins in your house? I can take them all, at any time. If I'm off sugar for a while, dark is more pleasant, as it doesn't taste so sweet. There isn't a day that goes by where you won't find some kind of chocolate in our home.
This Valentine's Duel Heart Sizzle Almond Bark features Belgium Dark Chocolate, with Belgium White Chocolate, with unsalted roasted whole almonds and chicken bones bites. I usually have one of those big 1 kg, of Kirkland whole unsalted almonds in my pantry, usually just to nibble on. Traditional bark has almonds, but one can switch out the nuts and put in a substitute if wished.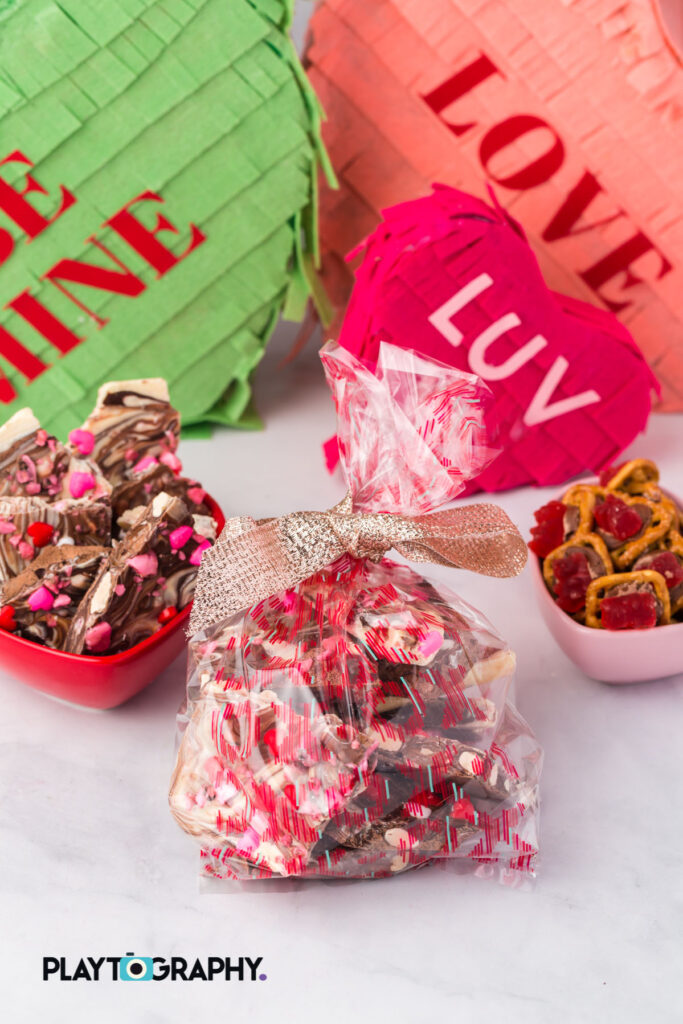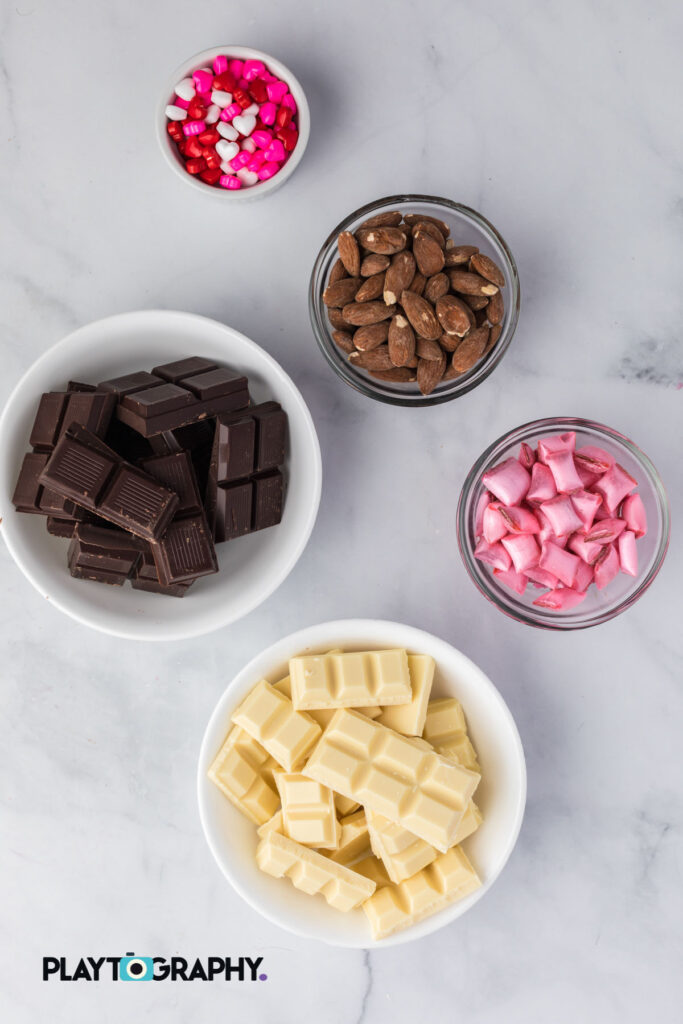 Ingredients
Waterbridge White Chocolate 400g
What are Chicken Bones Bites? They are a type of spicy cinnamon flavored hard candy that was invented in St. Stephen, New Brunswick by candy maker, Frank Sparhawk in 1885. Inside the center of the candy has unsweetened chocolate, perfect for a traditional cinnamon chocolate Valentine taste.
When you buy the Waterbridge Belgium Dark Chocolate and Waterbridge Belgium White Chocolate 400g each, because it is already tempered, you can quickly melt it in the microwave or a double boiler. This is the quick and easy method to make this Holiday treat. This brand of chocolate can also be found at Walmart in Canada.
Step 1
Melt the Chocolates
Break up the Waterbridge Dark Chocolate 400 g (and if you don't like dark, substitue to Milk chocolate) and put into a microwave bowl. All microwaves are different, so I suggest, slowly melt it, to avoid having it burn, or use a double boiler, where water in a lower pot, and the chocolate is in the top pot. Microwave for 1:30 minutes. Stir, mine still had some chunks, I melted for another 30 seconds. After 30 seconds, even though there was still chunks, I stirred it, and the chocolate was hot enough to melt the remaining chunks, I sat it aside, as I did the same steps repeated to melt the white next.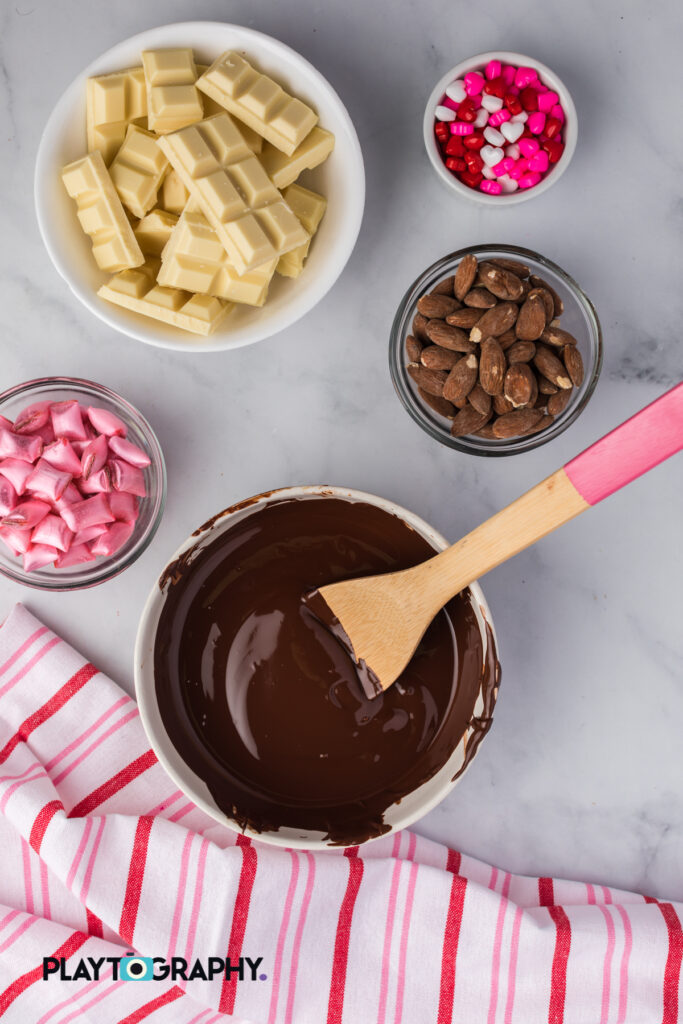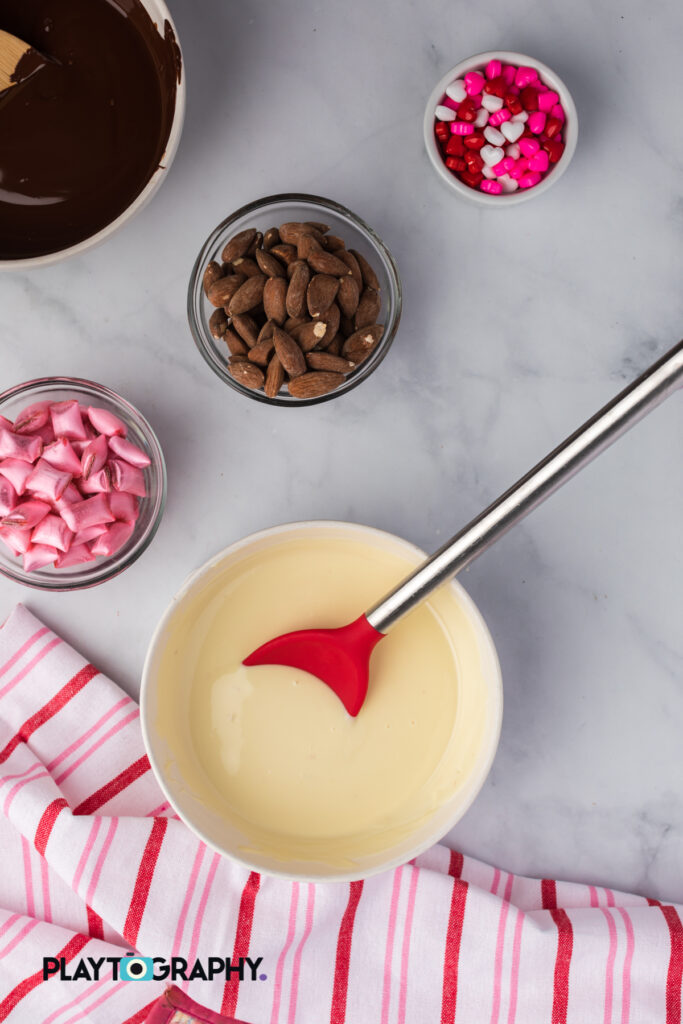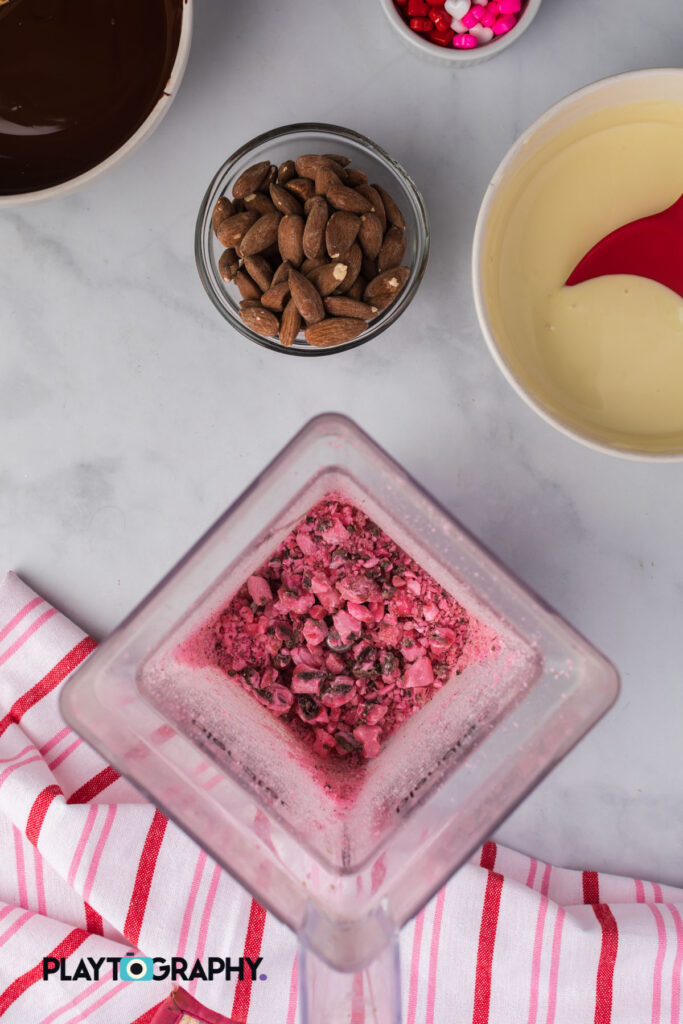 Step 2
You only need 1/2 of the 180 g package of Ganong Chicken Bites, and slowly pulse in the blender. This is hard candy, and if you don't have a blender, use a wet kitchen towel placed under a cutting board to stay in place, as you crush the hard candy with a towel under a hammer. Another option one could use is the "Pop Rocks" candy, as chicken bones, give the same effect of the candy popping in your mouth once mixed in with the chocolate.
Step 3
By now, the chocolate has cooled down enough, to have the temperature be even throughout the bowl. Mix in 1 cup of dry roasted whole almonds into the dark chocolate.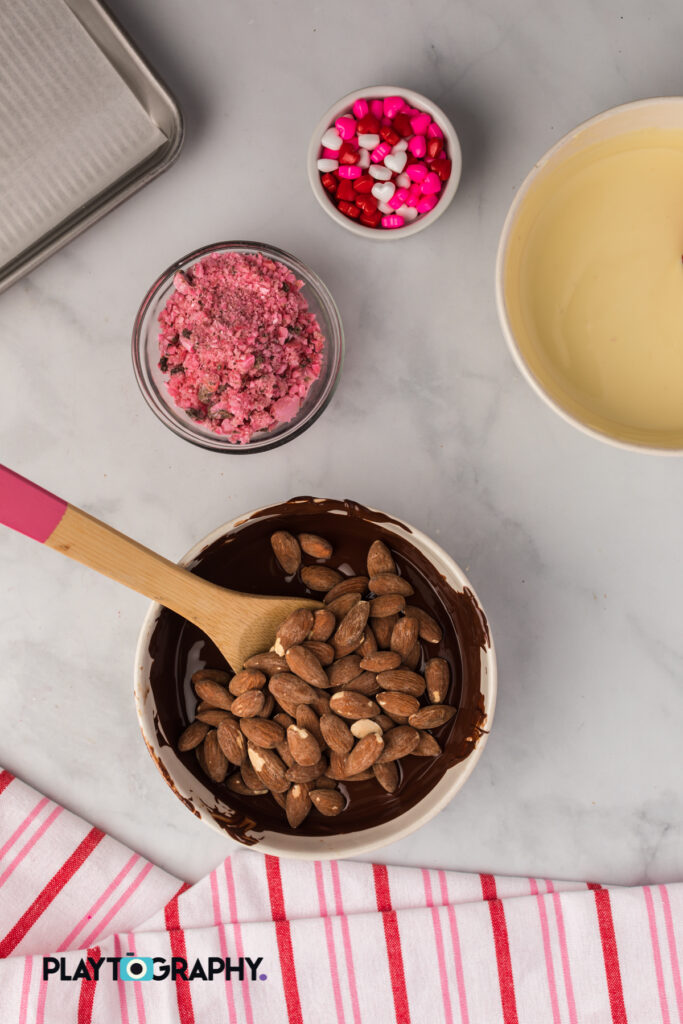 For an easier removable of the bark, line a cookie sheet with parchment paper. It sure is a time saver in cleaning up dishes.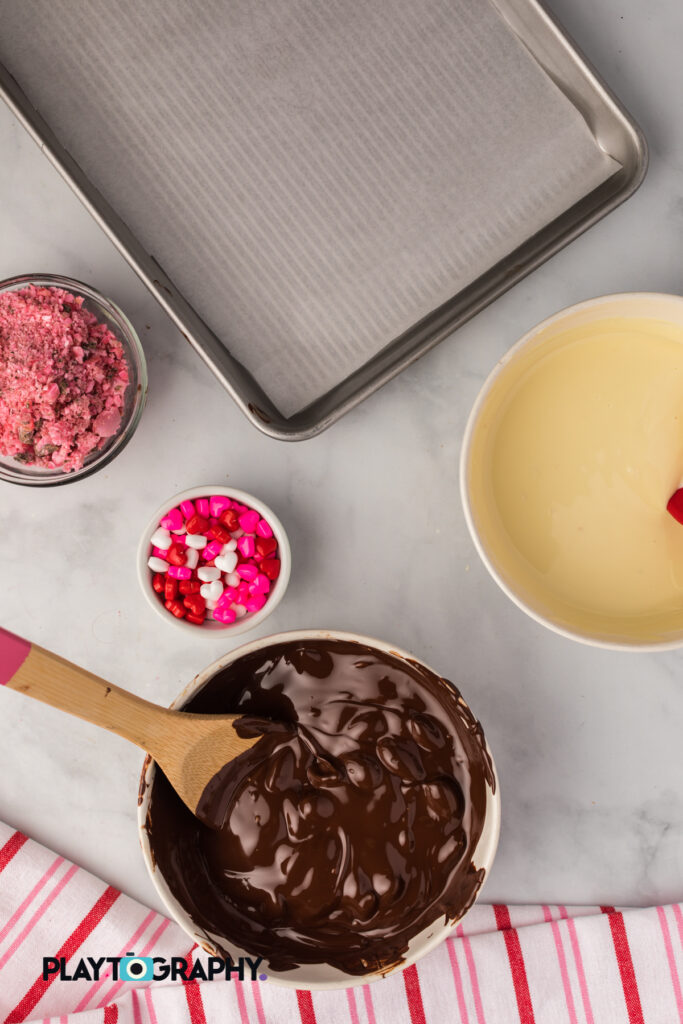 Put all the almond chocolate mixture on the parchment paper, it should cover half of a smaller cookie sheet.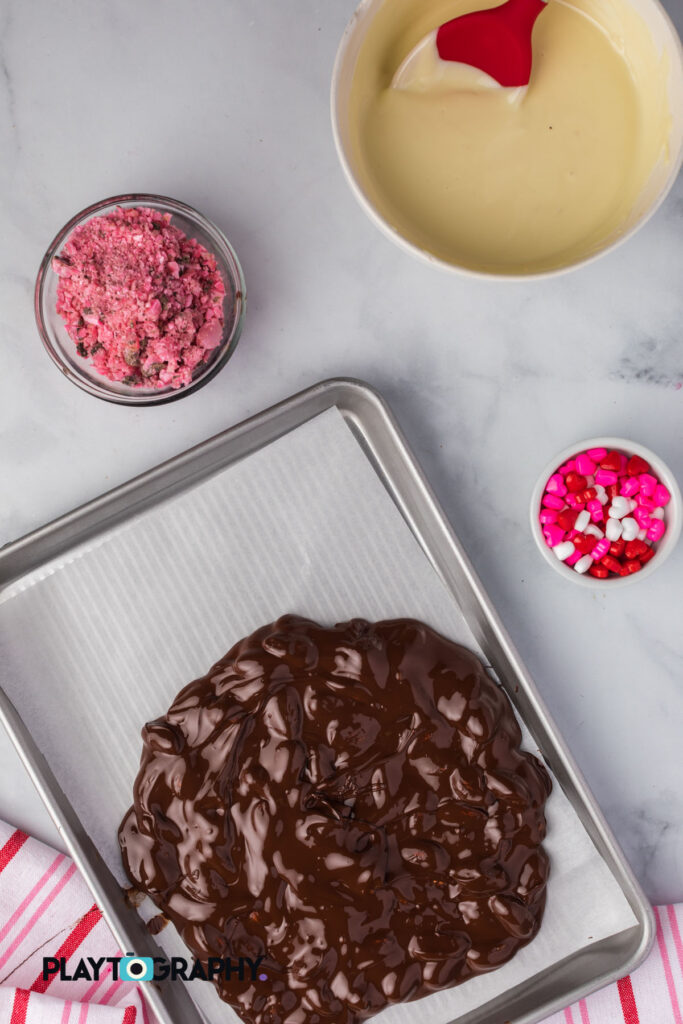 STEP 4
Reserve a few Tbsps of the Crushed Bones for later.
Mix the crushed Chicken Bones into the Belgium White Chocolate.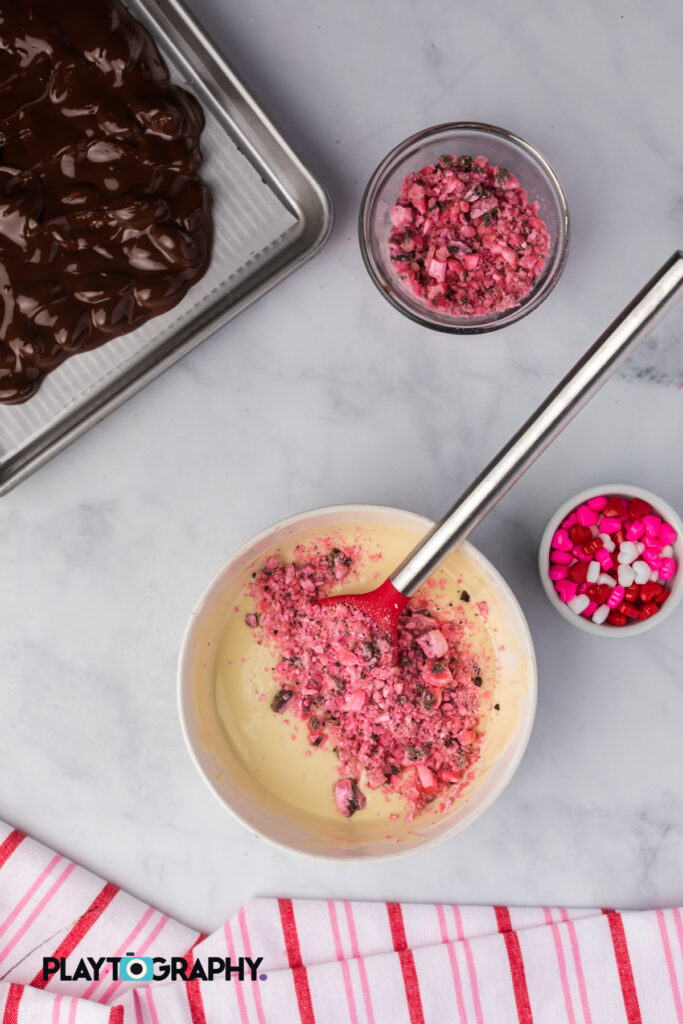 When placing the Belgium white chocolate mixture, overlap it with the Belgium Dark Chocolate in the middle of the pain.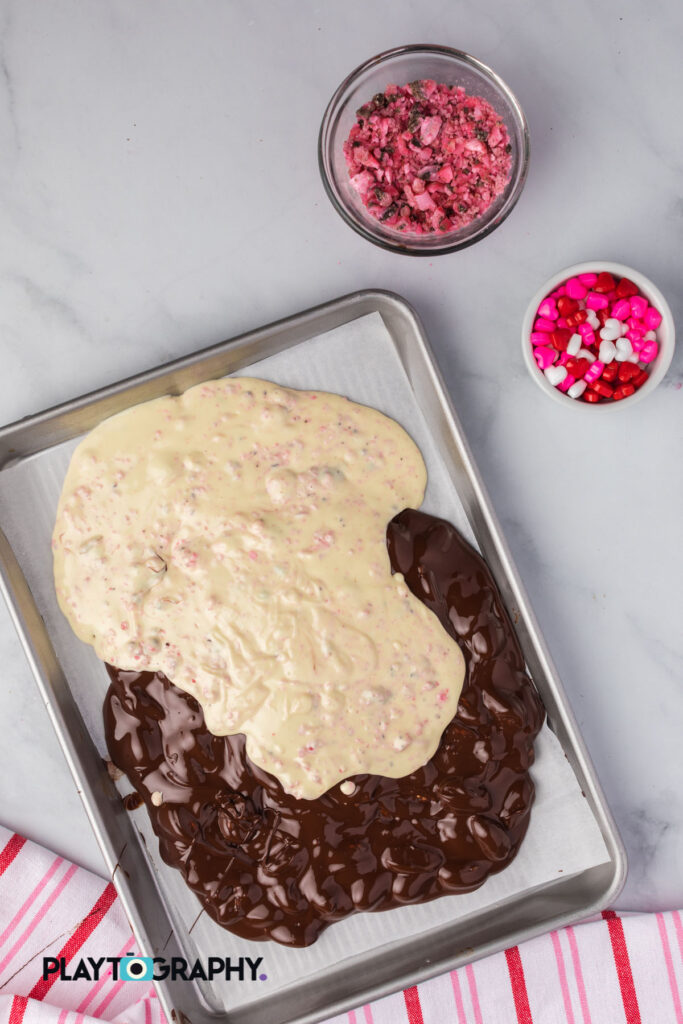 Drag with a butter knife, the dark chocolate into the Belgium White Chocolate, and repeat with taking the Belgium White Chocolate over to the Dark side, pretend you are in a love duel…which flavor will overrule the other?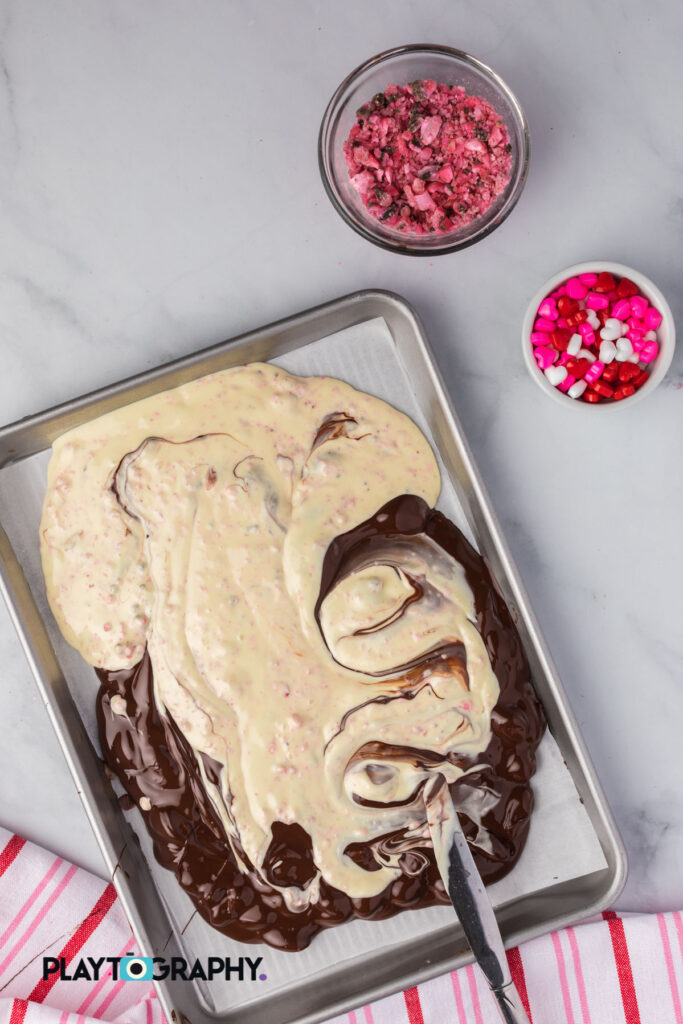 I like leaving some white and some dark, for fans that like a little bit more of one over the other. In the last step, take the candy heart sprinkles and some more of the crushed chicken bones, and sprinkle them on top of the bark. The chicken bones hard candy with the hint of cinnamon in the pieces, reminds me of Pop rocks, a perfect treat that dazzles the tastebuds, without it being too overwhelming with only having one kind of nut in the dark chocolate.
Once fully dried, then break into pieces. Store in a sealed container, serve in a candy dish or package them up to a giveaway.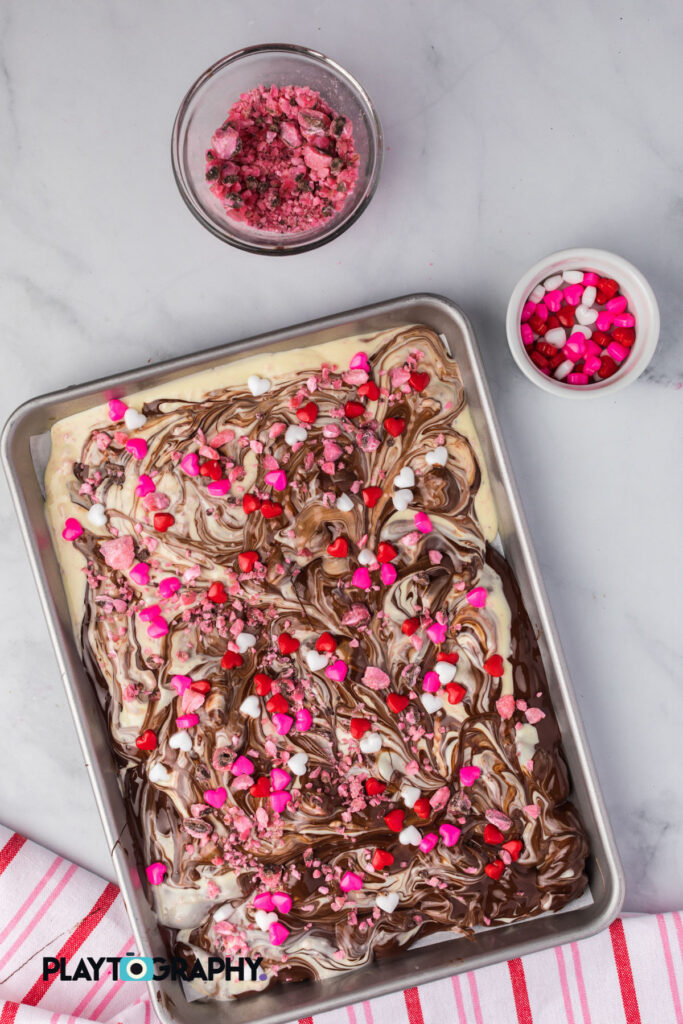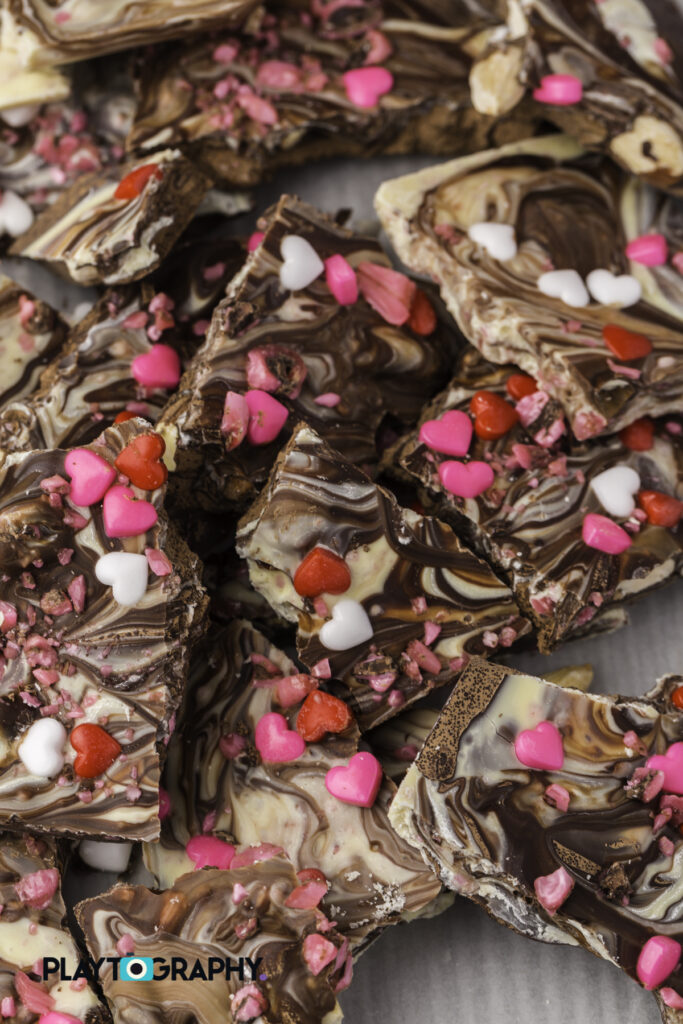 What duel do you prefer, Milk vs Dark, White vs Dark, or White vs Milk? Any way you make it, I'm sure it will be a winner this Valentine's season! Looking for more Valentine's activities? Check out this post for more Valentine ideas!
These adorable cute Felt Conversational Pinata Crafts that are used as props in my background can be found over at Brooklyn Berry Designs.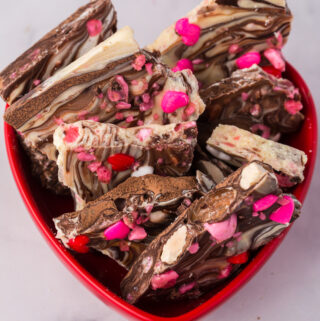 Valentine Duel Sizzle Heart Almond Bark
Two chocolates swirled with almonds and a hint of cinnamon with a bit of sizzle from this secret ingredient.
Equipment
Parchment Paper

2 Microwave Bowls

or Double Boiler

1 small cookie sheet
Ingredients
1

400g

Waterbridge Belgium Dark Chocolate

1

400g

Waterbridge Belgium White Chocolate

1

cup

Whole Roasted Unsalted Almonds

1/2

cup

Candy Heart Sprinkles

1

180g

Ganong Chicken Bites
Instructions
Line a cookie sheet with parchment paper.

Breakup Dark Chocolate and place in a microwave bowl. Microwave on high for 1 minand 30 seconds. Stir. Continue to microwave for 30 seconds. It's okay if thereare still chunks, stir and let the heat of the chocolate continue to melt anychunks.

Break up White Chocolate and place in a microwave bowl. Microwave on highfor 1 min and 30 seconds. Stir. Continue to microwave for 30 seconds. It's okayif there are still chunks, stir and let the heat of the chocolate continue tomelt any chunks.

Stir the 1 cup of almonds into the dark chocolate and pour onto thecookie sheet.

Use 1/2 of the bag, of Chicken Bones Bites and pulse in a blender, tocrush candy into smaller pieces. Set aside 3 Tbsps. Mix, the rest of the candyinto the white chocolate.

Pour the white chocolate mixture on the other half of the cookie sheet, and overlap the dark chocolate. Use a butter knife to swirl the dark chocolate into the white chocolate, and the white chocolate into the dark chocolate.

Once swirled, sprinkle candy hearts on top of the bark, and the reserve 3TBSP of rushed chicken bones bites.

Once chocolate is cooled, break into pieces. Store in a sealed container,bag up to give, or place in a candy dish.
Notes
Chocolate doesn't need to be tempered if its baking chocolate, candy melts, or Belgium chocolate candy bars.   Substitute other kinds of chocolate if you don't like dark or white.  Allergic to nuts? Try substituting with dried fruit, such as dried cranberries instead.