Join in the fun this Halloween by secretly dropping off a Boo Basket this Holiday Season to your family and friends, with free printables and crafts that you can fill your basket with!
Years ago, I open up my front door to a gigantic plastic Snowman with a sign around its neck and a plate of cookies by its side. It made me laugh out loud! Back before most of us had video doorbells, so we had no idea who left it! Around the snowman's neck, was a plastic folder, that we were to take a slip of paper out and place the sign up in the window, that we had been hit, by Frosty the Snowman. Then the task was to deliver our own treat secretly with the snowman in tow.
Here is a fun, new tradition that you may want to start with your family and friends every October. A Boo Basket!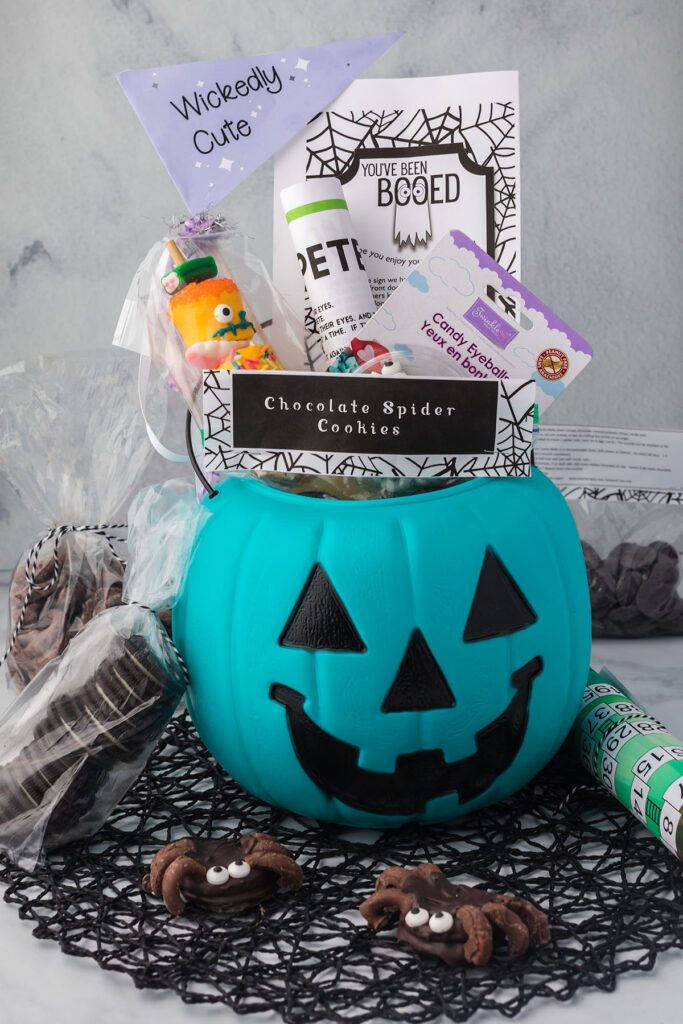 Here is what is in my basket –
Other items you could include:
Glow Sticks, or bracelts for Halloween night, find them at the dollar store
Caution Tape at the dollarstore
Remember the Signage
To complete the experience, its important to put in a sign "You've been booed". By folding the sign in half, the other half can be shown "We have been booed" for them to place on their front door or a front window. If the sign is visiably seen, it then prevents them to be hit again, and can go to another lucky family. Keep that in mind, when you create your boo basket, to be more generic, so it can go to anyone.
Make sure you print off the signs, so those receiving the Boo Basket, will be able to know its not from a stranger. Be sensitive to include peanut free treats. I would grab a paper page protector, and create several copies, of "You've Been Booed, "We have been Booed", to put into their bin. That saved my insanity, when Frosty was at my door, when the child is urging mom or dad, to Boo their friends, and join in on the fun! They can just fold the paper in half, and place on their front door or window.
Making a basket to drop off secretly to a friend or family member doesn't need to be stressful. You don't have to use a pumpkin basket, you could just use a box or even a gift bag. Just something to hold the loot, and not look too suspicious. I have some more great low cost activities that are printables on my shop, that you could print here to help you fill it up in a basket and do the same.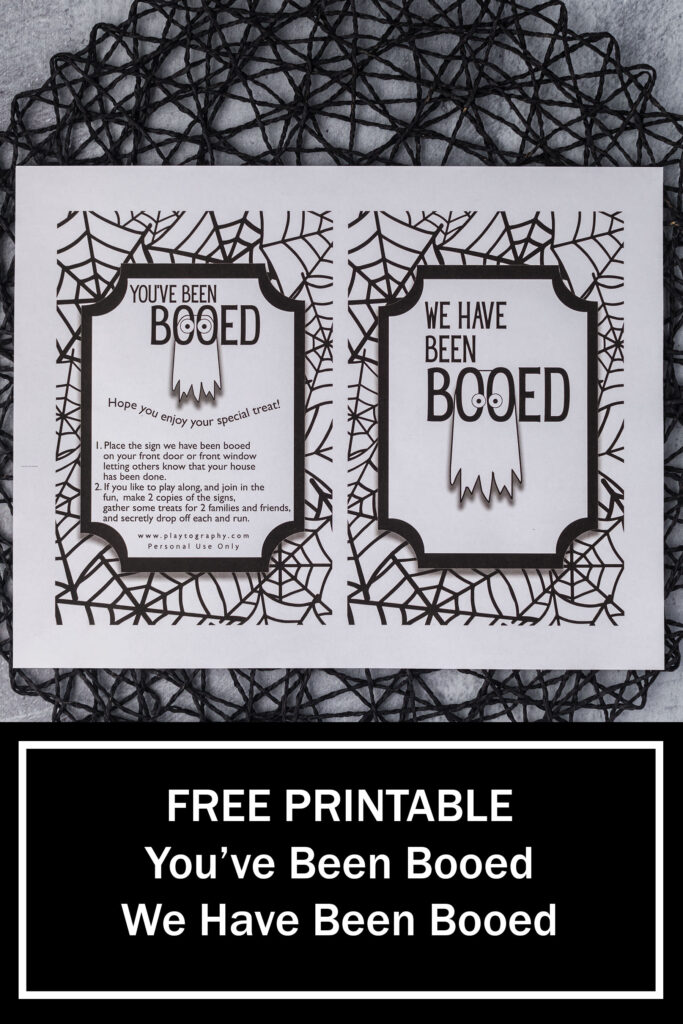 DOWNLOAD THE "You've Been Booed, We Have Been Booed" Free PRINTABLE HERE:
To get the free printable, please enter your name and email address in the form below and click the tab that says, "Let's Play" and the form will be downloaded automatically.
Terms and Conditions:
Downloading this free printable you are signing up for my e-newsletter and you'll be notified when I release new free printable files. You can claim more than one free printable on our site, and will only be notifed once.
This printable is for personal or classroom use only. 
Digital reselling, sharing, redistributing of the files is NOT allowed. If you would like to share, please direct friends to the original blog post where you found this file.